6.11 - Pembrokeshire Buildings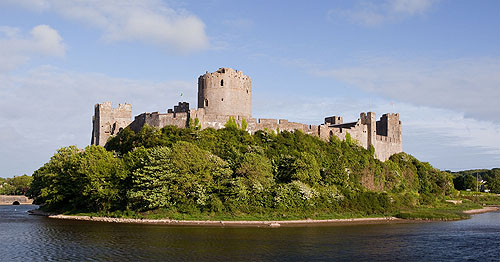 Soon after the Battle of Hastings in 1066 the victorious Norman invaders looked to Wales,
but it was not until 1093 that Earl Roger of Montgomery built the first Pembroke Castle,
a basic structure of timber palisades , it stood firm against Welsh counter-attacks in
subsequent years.
In 1189 William Marshal became Earl of Pembroke and the castle passed into his hands.
Over the next 30 years he transformed the earth and timber structure into a powerful stone
fortification with a magnificent round keep (Great Tower)75 feet in height.
In the 13th century William de Valence, added the outer bailey curtain wall, flanked by
huge round towers and a remarkable gatehouse.
In 1454 the Castle and Earldom were granted to Henry VI's half-brother Jasper Tewdwr .
He was the first to make it more of a home than a fortress. Jaspers nephew Henry VII
was born at Pembroke Castle
During the Civil War in 1648 , Cromwell himself came to Pembroke and took the castle
after a seven-week siege .Cromwell ordered the castle to be destroyed ,remaining an ivy-
covered ruin until 1880 when a Mr J R Cobb of Brecon spent three years restoring what he
could. Major-General Sir Ivor Philipps of Cosheston Hall acquired the ruins in 1928,
starting an extensive restoration of the castles walls and towers .
Ref: 8641
Date: 11/05/2011
Location: SM 980.015